Bonafrú
Sociedad Cooperativa Andaluza Hortofrutícula de Bonares
Bonafru was established by a group of farmers in Bonares who joined forces in 1983 to sell the Breba figs that they grew in the area, forming the co-operative that you see today. Over the years Bonafru has grown and diversified to improve customer quality and services. After officially becoming a co-operative, the partners gradually started to incorporate strawberry-growing hectares, until, in around 1987, they took the qualitative and quantitative step of becoming the strawberry co-operative that it is today, surviving many of the highs and lows that growers have faced over the last two decades.
La Strawberries became the co-operative's leading product, both in production volume and in turnover, reaching a production of up to 12 million kilograms in the year 2000, which has been dropping ever since as the co-operative has been diversifying its growing by planting other crops.
In fact, growing various varieties of raspberries was first trialled in the mid-90s, as an almost experimental crop at the time, production of which now just keeps on increasing.
The first plantations of blueberries, the third of Bonafrú's most important crops was added in 2010, and more and more are cultivated every year.
These three types of berries are stored together with the Breba figs in Bonafrú's warehouses, which, albeit symbolically, continue to be grown by the Bonares co-operative in recognition of their origins.
DIRECTIVE BOARD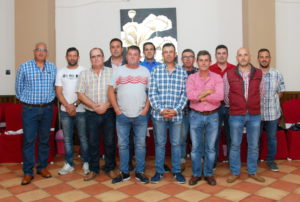 CHAIRMAN
D. Lucas Domínguez García

VICE-CHAIRMAN
D. Florentino Pulido La O

SECRETARY
D. Rafael Domínguez Molín

BOARD MEMBERS
D. Cristóbal Domínguez Iglesias
D. Diego Pérez Vega
D. Isaac Pérez Díaz
D. Cristóbal Jesús Mora García
D. Luciano Quintero Coronel
D. Diego Fernando Barroso Barriga
D. Antonio José Conejo Bellerín
D. Victoriano Suárez Suárez
D. Angeliano Donaire Martín

MANAGER
D. Diego Barriga Beltrán
OUR CO-OPERATIVE
Bonafrú started up in 1983 on premises borrowed from a local co-operative. As it got larger and outgrew the space it moved to some 900m² premises leased by the local council in 1987. Bonafrú's continuous growth meant that in 2001 it moved again to its current facilities in the El Corchito Industrial Estate. These facilities comprise 10,000m² of buildings on a 30,000m² plot, and include all kinds of new technologies applied to the production process.
Bonafrú currently has 400 partners, about a hundred of which are active, from Bonares, Niebla, Moguer, Lucena del Puerto, Trigueros y San Juan del Puerto, the same areas where Bonafrú operates, as well Rociana del Condado, Almonte, Lepe, Villablanca y Cartaya.  
The latter two municipalities mentioned are where the new project to put 200 new hectares into production for strawberries, raspberries and blueberries will start next October.
EVOLUCIÓN DE LA MARCA A TRAVÉS DE SU LOGOTIPO

Logotipo desde 1983


Nuevo logotipo 2017
BONAFRÚ TODAY
Bonafrú currently produces almost 7 million kilograms of produce, grown on 350 hectares of the province and generating 2.500 jobs during peak season.
Bonafrú strives every day to improve the quality of its produce and provide its customers with a more extensive range of services, as it adapts to new market and consumer demands.